Plants related to rituals of Miyako island
Hello Miyakojima Fan!
On Miyako Island, various festivals are held in different villages and regions.
The plants used for the rituals also vary.
Today, I would like to talk about one of the plants used during the Pantu festival of Miyako island which was registered as an intangible cultural heritage by the United Nations Educational, Scientific and Cultural Organization (UNESCO) in 2018.
This plant below is Clematis chinensis Osbeck, Japanese name is Sakishima Botan Zuru.
It is vine plant (Zuru or Tsuru in Japanese) and often grows in sunny places.
When it blooms, it stands out because of its distinctive features.
Clematis chinensis, Sakishima Botan Zuru is sometimes called Miyakojima Botan Zuru.
There is the plant called Botan Zuru (Clematis apiifolia) which is found from Honshu to Kyushu.
Botan Zuru has saw-like jagged leaves which are similar to the plant Botan  (Paeonia suffruticosa) and has vine (Zuru).
What a pretty simple way to name it.
I guess "Sakishima Botan Zuru" was named because it is a kind of Botan Zuru and is native to Okinawa Prefecture, though its leaves are not jagged.
There are two festivals known as Pāntu on Miyako Island.
One of them is held at Ueno Nohara and  it is considered a ritual to drive away misfortune and bring good luck.
The local boys put on masks as Pāntu, the god of visitation and leads the procession, followed by children playing drums and blowing conch shells.
The women, with plants tied around their heads and waists and branches of the yabu-nikkei tree in their hands, move about, shouting and waving them up and down.
The plant that the women wear around their heads and waists is Sakishima Botan Zuru.
On the other hand, in the Shimajiri Pāntu, adult men dress up as Pāntu, and they wrap their bodies around a plant called Shiinokikazura, which is also a vine.
Since there are many vine plants on Miyako Island, they are often used in festivals.
The photo below is the Shimajiri Pantu.
Unlike the Pantu in Nohara, Pantu in Shimajiri is quite frightening and many children cry.
There are many such festivals on the island and I believe that these must be carefully passed on to the next generation.
A group-chartered English Eco-Tour in Miyakojima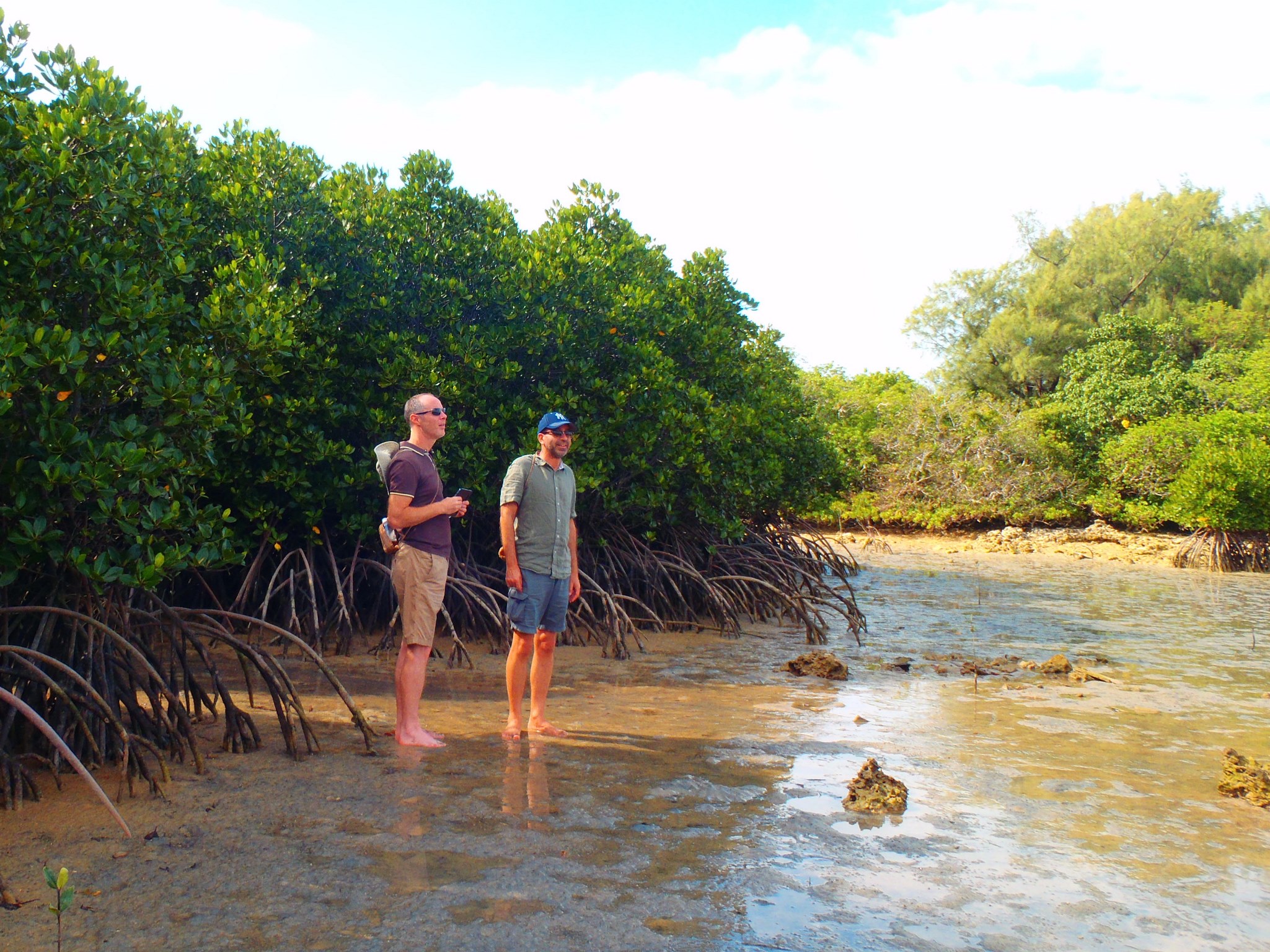 Experienced interpreter will introduce you the history and the culture of Miyakojima, by visiting historical sites, caves, and mangrove area.
Discover Miyakojima from a new perspective !
(We will not enter the sea with this program.)
Perfect for families or groups traveling together

Can experience an extraordinary Miyakojima unlike any other