Haarri (Sea festival) of Miyako island
Hello Miyakojima Fan!
On Miyako Island, various festivals are held throughout the island.
Originally, villages were built in places where it was easy to obtain underground water and other resources, and since each village was located far away from the others, unique cultures and rituals may have emerged. This was long before water supply facilities were built.
For this reason, it is interesting that even within the same island, there are different languages and customs.
One of the most famous festivals held on the island is the Sea festival, called "Haarri".
Unfortunately, the festival has been canceled due to the covid-19 for the past two years.
Anyway, let me introduce the Haarri festival.
The Haarri festival is a traditional festival to express gratitude to the god of the sea and to wish for a large catch and safety cruise.
It is a very important festival for the people of Miyako Island, where people's lives are closely connected to the ocean.
It is mainly held on May 4 of the lunar calendar at fishing ports throughout the island.
In the early morning, fishing boats with large fishing flags go to pray to the god of the sea one after another.
Then, the race using small wooden boats called "sabani" starts!
It is competed by various local groups, such as village groups, women's associations, and school students…etc.
On Irabu Island, when there is a large catch of bonito, bonito fillets are thrown from the top of the fishing boat and local people then try to pick them up.
This event is called "Ohbammai".
On Ikema Island, instead of bonito,  the small sweets and fruits are thrown from the fishing boat.
Children wearing goggles and carrying plastic bags are very excited to pick them up.
In some area, "overturn Haarri race" is held.
Sabani are very unstable and can easily overturn in big waves.
In fact, they sometimes overturned during fishing in strong winds or rough seas, and it was necessary to have the skill to quickly raise the boat and remove the water from inside.
The overturn Haarri is a demonstration of this skill.
Haarri Festival is a very important event for the community.
It must be passed on to the next generation of children.
For this reason, many efforts are made to make it easy for children to participate and enjoy the festival.
Many communities participate in the festival as a school event.
I believe that this event is not only a way to thank the sea gods, but also to nurture a sense of care for the community.
A group-chartered English Eco-Tour in Miyakojima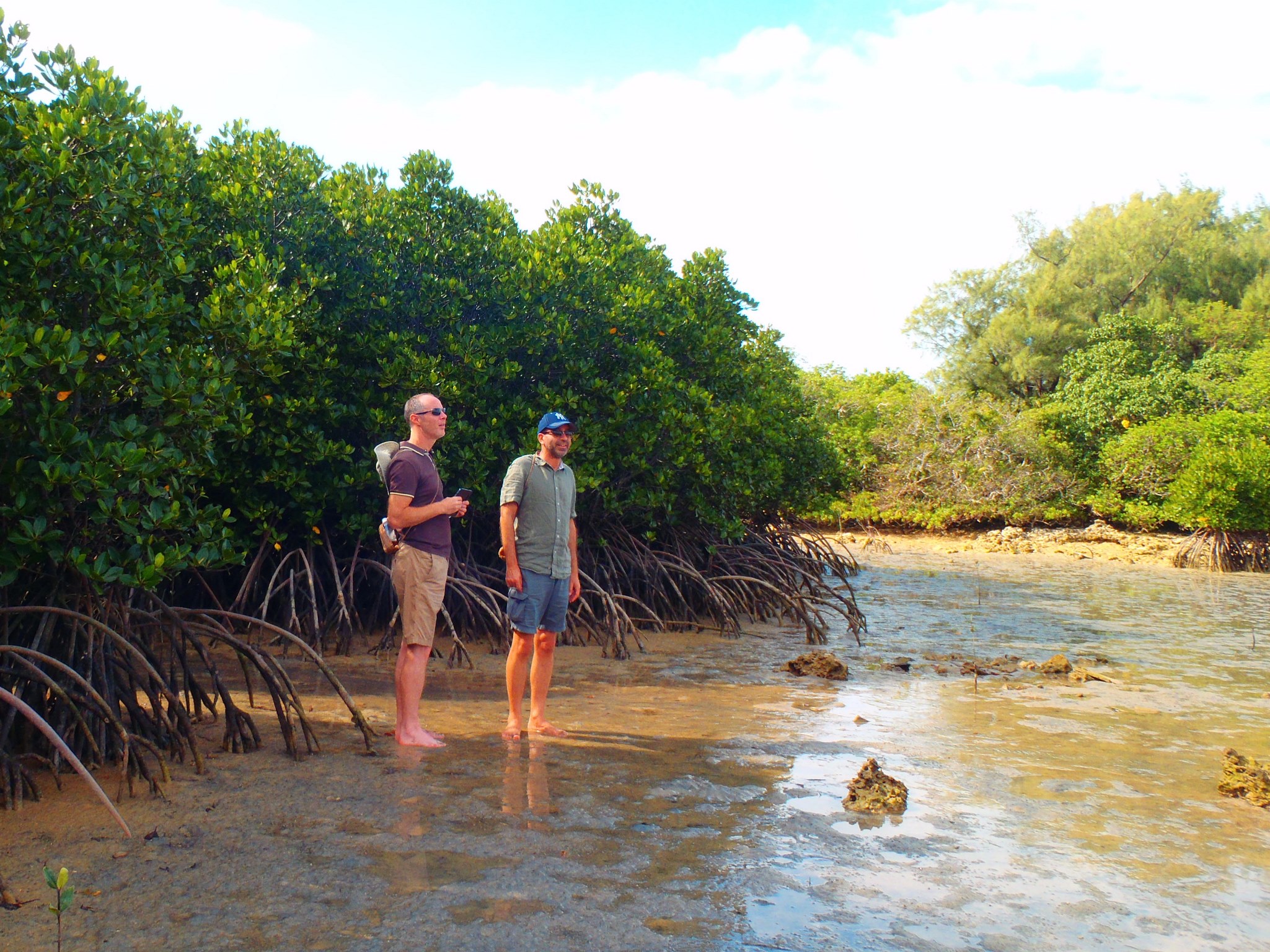 Experienced interpreter will introduce you the history and the culture of Miyakojima, by visiting historical sites, caves, and mangrove area.
Discover Miyakojima from a new perspective !
(We will not enter the sea with this program.)
Perfect for families or groups traveling together

Can experience an extraordinary Miyakojima unlike any other